CWPPRA Priority Project List (PPL 28) Nominees Selected

On Tuesday, February 27, 2018, CWPPRA agencies and participating coastal parishes voted to select project nominees for PPL 28. The nominees were selected from the 64 basin projects, 2 coastwide projects, and 4 demonstration projects proposed during the Regional Planning Team (RPT) meetings held on January 30-February 1, 2018. The vote resulted in two projects tied for 2nd place in the Calcasieu-Sabine Basin and two projects tied for 2nd place in the Mermentau Basin. The tied projects in both basins will move forward as nominees. The PPL 28 nominees consist of 22 basin projects, 1 coastwide project, and 3 demonstration projects.
The PPL 28 project nominees will be preliminarily evaluated by the CWPPRA Workgroups and narrowed down at the 12 April 2018 Technical Committee meeting to the PPL 28 candidate projects, which will consist of 10 basin projects (potentially including a coastwide project) and up to 3 demonstration projects. Public comment will be solicited at the April Technical Committee meeting prior to the Committee's vote.
Information on the PPL 28 project proposals is available on the web:
http://www.mvn.usace.army.mil/Missions/Environmental/CWPPRA/PriorityProjectLists.aspx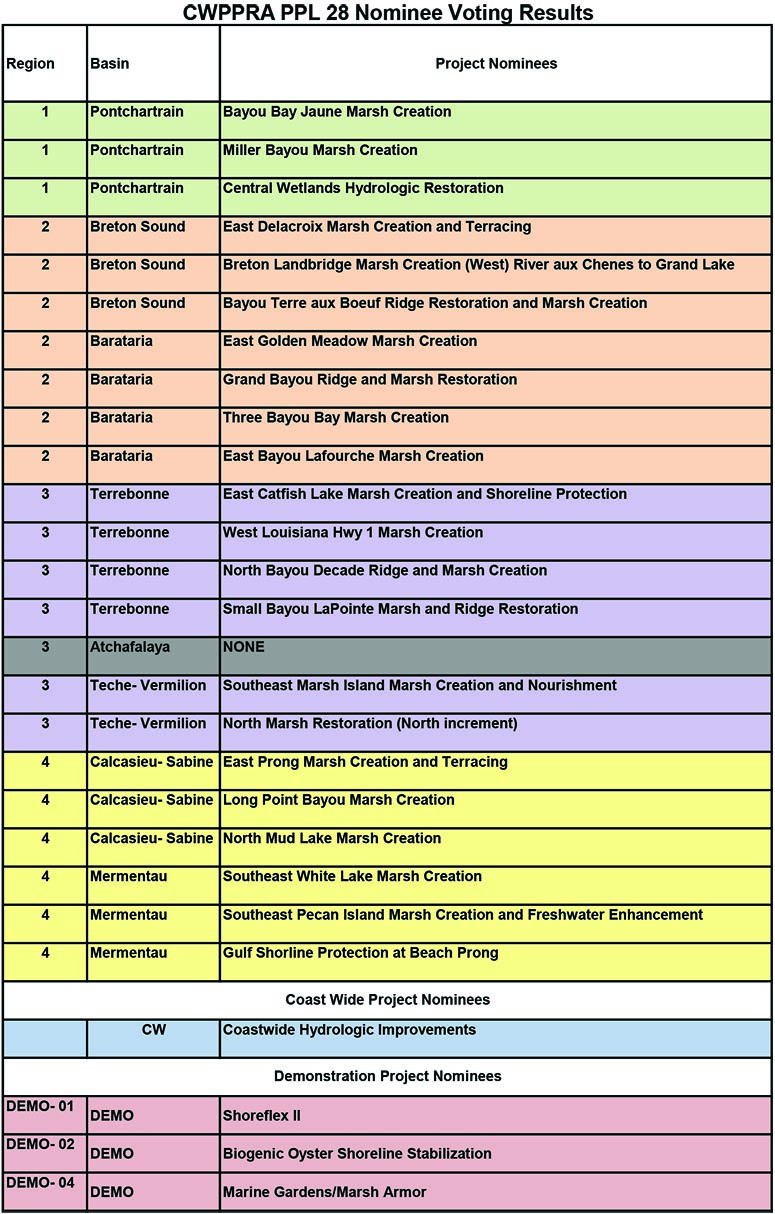 ###
---
To

subscribe

, send an email from the address you want subscribed to:

ListServer@nwrccom.cr.usgs.gov

with the subject "

subscribe cwppra

" without the quotation marks.

Connect with us:
See what's new on the CWPPRA Web site! Visit https://www.lacoast.gov/
Tell Us What you Think
We welcome your comments! Contact us at lacoast@nwrccom.cr.usgs.gov
Spread the Word
Tell your friends they can receive this free newsflash by subscribing at:
https://www.lacoast.gov/news/newsletter.htm
For More Program Information:
Subscribe to WaterMarks, the CWPPRA magazine, by contacting lacoast@nwrccom.cr.usgs.gov
To view on-line issues visit
https://www.lacoast.gov/WaterMarks
CWPPRA Managing Agencies:







Other Related Coastal Restoration Web Sites:










Unsubscribe
This newsflash has been sent to you because you are either a participant in our program or you have provided your e-mail address to us in a request to receive it. If you prefer not to receive this newsflash, you can unsubscribe by sending an email to:
ListServer@nwrccom.cr.usgs.gov.
with "unsubscribe cwppra" as the subject without the quotation marks.