Please save the date for Center for Planning Excellence (CPEX)'s 12th Annual
Louisiana Smart Growth Summit November 7 & 8, 2017
in downtown Baton Rouge.
Online registration
is now open!
With over 450 daily attendees, our Summit is the Southeast's premier dialogue on innovative planning and strong communities. This year's agenda features a day-long
Smart Cities track
, showcasing cutting-edge technogies that address rural and urban challenges. You can review our evolving
agenda
, outstanding
speakers
, and other details at
www.summit.cpex.org
.
In addition to filling you in on this year's exciting program, I'd like to ask your help in promoting the Smart Growth Summit to your networks. If you'd be willing to mention or include the Summit in any newsletters, event boards, meeting announcements, or social media posts in coming weeks, we'd be very grateful! Attached you'll find a flier you're welcome to distribute to your contacts, and you can tag the Facebook event, as well as the CPEX facebook page.
We have a limited number of sponsorships available, and our deadline is approaching on October 2. To sponsor the Summit, please
click here
or contact my colleague
Jennifer David
at jdavid@cpex.org or 225-389-7193 with questions.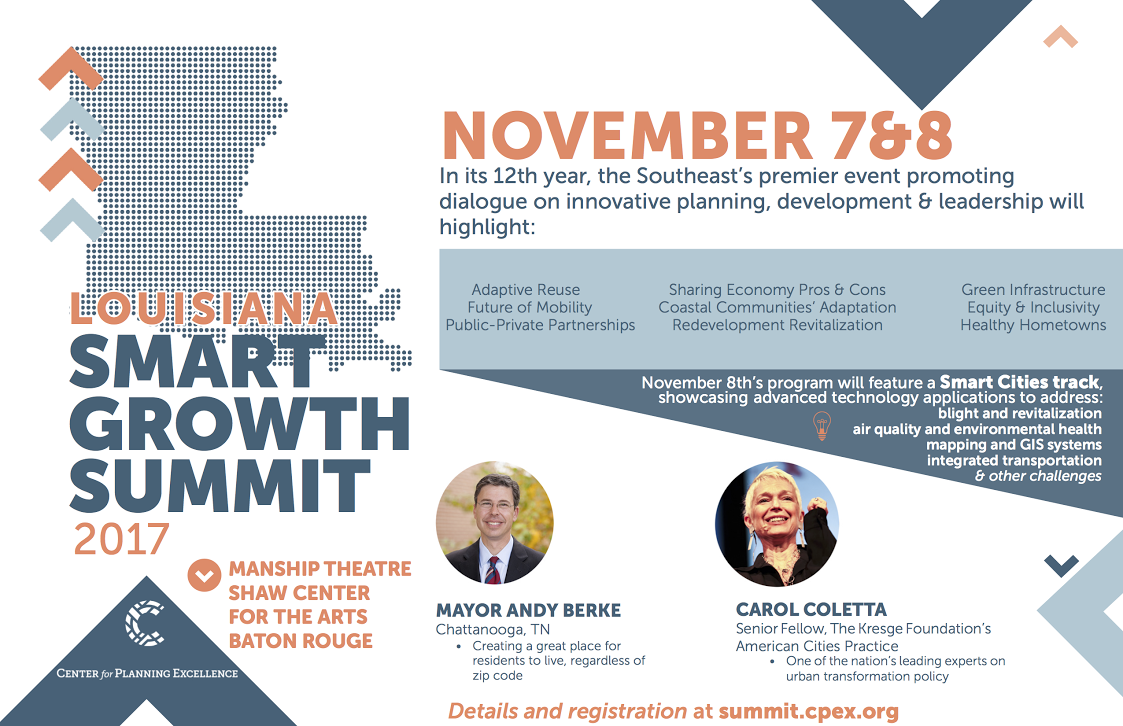 ###
---
To

subscribe

, send an email from the address you want subscribed to:

ListServer@nwrccom.cr.usgs.gov

with the subject "

subscribe cwppra

" without the quotation marks.

Connect with us:
See what's new on the CWPPRA Web site! Visit https://www.lacoast.gov/
Tell Us What you Think
We welcome your comments! Contact us at lacoast@nwrccom.cr.usgs.gov
Spread the Word
Tell your friends they can receive this free newsflash by subscribing at:
https://www.lacoast.gov/news/newsletter.htm
For More Program Information:
Subscribe to WaterMarks, the CWPPRA magazine, by contacting lacoast@nwrccom.cr.usgs.gov
To view on-line issues visit
https://www.lacoast.gov/WaterMarks
CWPPRA Managing Agencies:







Other Related Coastal Restoration Web Sites:










Unsubscribe
This newsflash has been sent to you because you are either a participant in our program or you have provided your e-mail address to us in a request to receive it. If you prefer not to receive this newsflash, you can unsubscribe by sending an email to:
ListServer@nwrccom.cr.usgs.gov.
with "unsubscribe cwppra" as the subject without the quotation marks.