Don't Miss Out on CRCL's Exciting Coastal Restoration Road Show in Lacombe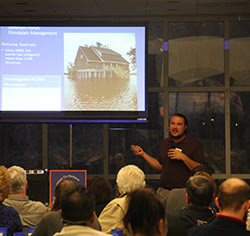 You still have time to be join us in Lacombe for a unique event that will provide a high level overview of Louisiana's coastal land loss crisis. Together, we will take a closer look at restoration and flood risk reduction projects specific to the North Shore and Lake Pontchartrain. It all starts at 4:30 on Thursday, March 16, 2017, at the Big Branch Marsh Wildlife Refuge Headquarters with a special open house. The evening will also include small group discussions and the opportunity to talk directly to representatives of the Coastal Protection and Restoration Authority, the Office of Community Development and St. Tammany Parish officials.
Go to
crcl.org
for more details and to register for the meeting and the field trip. It's free, but space is limited, so don't delay. t's going to be fun, exciting, and most importantly, informative. Dinner and door prizes included!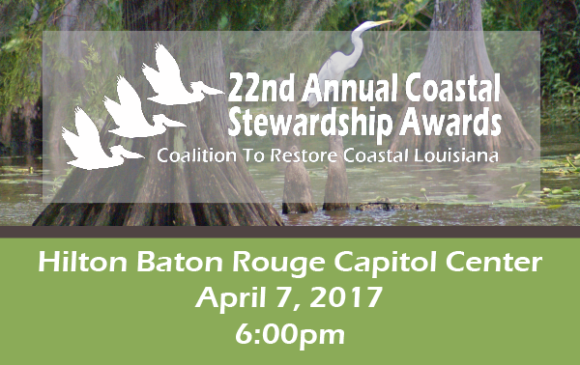 Stewardship Awards Banquet Fast Approaching—Don't Miss out!
It's time to honor our Coastal Champions! The 22nd Annual Stewardship Awards Banquet is Friday, April 7, at the Hilton Baton Rouge Capitol House and tickets are going fast. Don't miss out on the chance to help us honor our Coastal Stewardship Award winners—Dr. Edward Overton, Simone Maloz, Ted Joanen, and Phil Precht; our Youth Stewardship Award winner, Isabel Grandy; our Distinguished Achievement recipient, Marnie Winter; and our Lifetime Service recipient, Rob Gorman.
We are honored to announce this year's keynote speaker will be Colonel Michael N. Clancy, who was recently appointed commander of the U.S. Army Corps of Engineers, New Orleans District.
Come join us for a night of coastal celebration. Tickets are only $60 and includes a cocktail hour prior to dinner.
Click here
to reserve your tickets. Don't take a chance of it being sold out. Get your tickets today!
Check Out CRCL's Exciting Job Opportunities
The Coalition to Restore Coastal Louisiana has a two exciting positions open. Check out the job descriptions for the Operations and Communications Intern and Habitat Restoration Program Americore Assistant by
clicking here
.

###
---
To

subscribe

, send an email from the address you want subscribed to:

ListServer@nwrccom.cr.usgs.gov

with the subject "

subscribe cwppra

" without the quotation marks.

Connect with us:
See what's new on the CWPPRA Web site! Visit https://www.lacoast.gov/
Tell Us What you Think
We welcome your comments! Contact us at lacoast@nwrccom.cr.usgs.gov
Spread the Word
Tell your friends they can receive this free newsflash by subscribing at:
https://www.lacoast.gov/news/newsletter.htm
For More Program Information:
Subscribe to WaterMarks, the CWPPRA magazine, by contacting lacoast@nwrccom.cr.usgs.gov
To view on-line issues visit
https://www.lacoast.gov/WaterMarks
CWPPRA Managing Agencies:







Other Related Coastal Restoration Web Sites:










Unsubscribe
This newsflash has been sent to you because you are either a participant in our program or you have provided your e-mail address to us in a request to receive it. If you prefer not to receive this newsflash, you can unsubscribe by sending an email to:
ListServer@nwrccom.cr.usgs.gov.
with "unsubscribe cwppra" as the subject without the quotation marks.