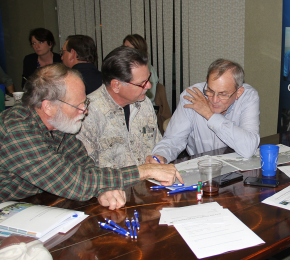 You still have time to be join us in Lafitte for a unique event that will provide a high level overview of Louisiana's coastal land loss crisis. Together, we will take a closer look at restoration and flood protection projects specific to the Lafitte area. It all starts at 4:30 on Wednesday, Feb. 15 with a special open house. The evening will also include small group discussions and the opportunity to talk directly to representatives of the Coastal Protection and Restoration Authority, the US Army Corps of Engineers, Jefferson Parish and Office of Community Development. This event will be entertaining and informative with a little bit of a twist. Not only will you learn about coastal restoration from the experts, you will also get the chance to actually go see where local restoration projects are occurring.
There are a lot coastal restoration projects in the works around Barataria Bay and you can get a first-hand look. Join CPRA's Barry Richard for a two hour trip into the heart of the Barataria Basin to see these projects up close. You will see the Dupont Marsh and Ridge Creation site, along with several important shoreline protection projects. This is a rare opportunity to see and learn about these projects.
Go to
crcl.org
for more details and to register for the meeting and the field trip. It's free, but space is limited, so don't delay. t's going to be fun, exciting, and most importantly, informative. Dinner and door prizes included!


###
---
To

subscribe

, send an email from the address you want subscribed to:

ListServer@nwrccom.cr.usgs.gov

with the subject "

subscribe cwppra

" without the quotation marks.

Connect with us:
See what's new on the CWPPRA Web site! Visit https://www.lacoast.gov/
Tell Us What you Think
We welcome your comments! Contact us at lacoast@nwrccom.cr.usgs.gov
Spread the Word
Tell your friends they can receive this free newsflash by subscribing at:
https://www.lacoast.gov/news/newsletter.htm
For More Program Information:
Subscribe to WaterMarks, the CWPPRA magazine, by contacting lacoast@nwrccom.cr.usgs.gov
To view on-line issues visit
https://www.lacoast.gov/WaterMarks
CWPPRA Managing Agencies:







Other Related Coastal Restoration Web Sites:










Unsubscribe
This newsflash has been sent to you because you are either a participant in our program or you have provided your e-mail address to us in a request to receive it. If you prefer not to receive this newsflash, you can unsubscribe by sending an email to:
ListServer@nwrccom.cr.usgs.gov.
with "unsubscribe cwppra" as the subject without the quotation marks.