The CWPPRA Technical Committee virtually convened via WebEx on Thursday, 9 December and selected four Project Priority List (PPL) 31 candidate projects to recommend to the Task Force for Phase I Engineering and Design. The following projects were selected: East Cove Marsh Creation, Port Fourchon Marsh Creation, Grand Bayou Ridge and Marsh Restoration - Increment 2, and Northeast Turtle Bay Marsh Creation Extension. The Technical Committee also selected three projects to recommend to the Task Force for Phase II authorization and Increment 1 funding: Breton Landbridge MC (West) River aux Chenes to Grand Lake (BS-38), Northeast Turtle Bay (BA-206), and No Name Bayou Marsh Creation (CS-78). The Task Force may approve these recommended projects for Phase I and Phase II funding when they meet on January 27, 2022.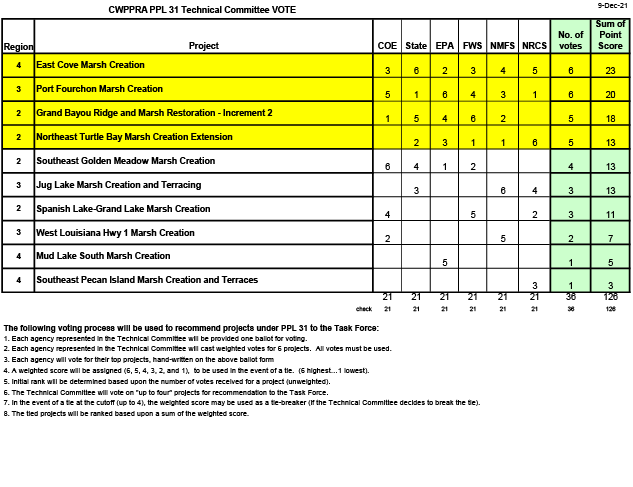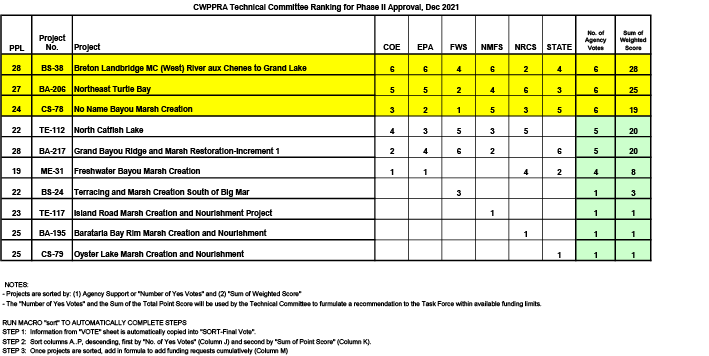 ###
See what's new on the CWPPRA Web site! Visit https://www.lacoast.gov/
Tell Us What you Think
We welcome your comments! Contact us at lacoast@nwrccom.cr.usgs.gov
Spread the Word
Tell your friends they can receive this free newsflash by subscribing at:
https://www.lacoast.gov/news/newsletter.htm
For More Program Information:
Subscribe to WaterMarks, the CWPPRA magazine, by contacting lacoast@nwrccom.cr.usgs.gov
To view on-line issues visit
https://www.lacoast.gov/WaterMarks
CWPPRA Managing Agencies:







Other Related Coastal Restoration Web Sites:










Unsubscribe
This newsflash has been sent to you because you are either a participant in our program or you have provided your e-mail address to us in a request to receive it. If you prefer not to receive this newsflash, you can unsubscribe by sending an email to:
ListServer@nwrccom.cr.usgs.gov.
with "unsubscribe cwppra" as the subject without the quotation marks.