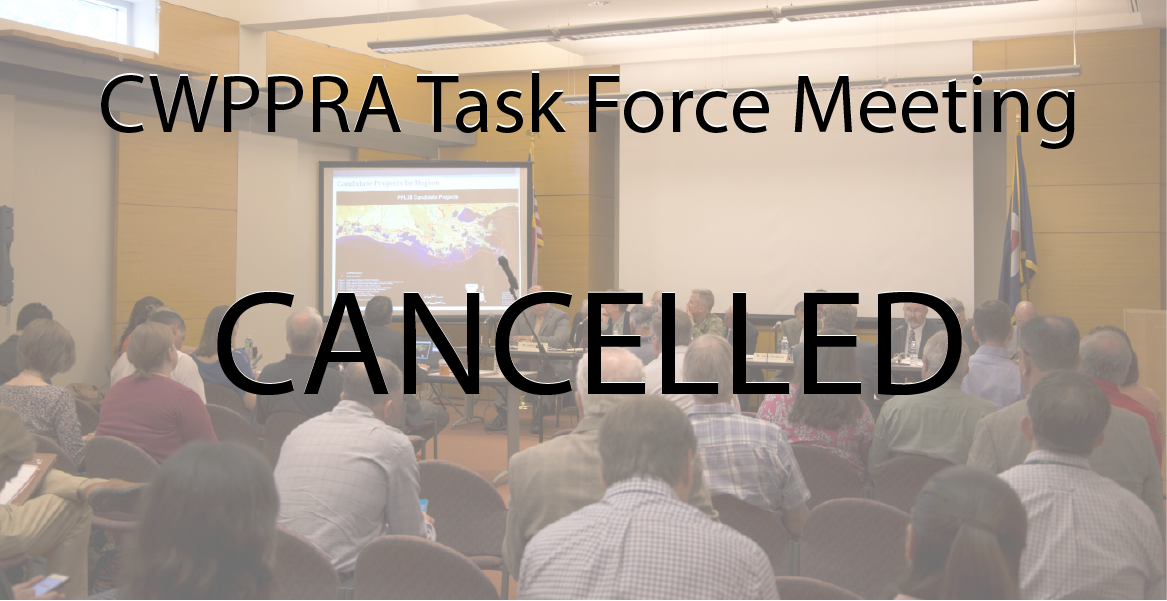 CWPPRA Task Force Meeting Cancelled


Due to the widespread impacts from Hurricane Ida, the CWPPRA Task Force meeting that was scheduled for October 7, 2021, has been cancelled in favor of an electronic vote. Results will be announced via CWPPRA social media accounts and the CWPPRA newsflash.



###
See what's new on the CWPPRA Web site! Visit https://www.lacoast.gov/
Tell Us What you Think
We welcome your comments! Contact us at lacoast@nwrccom.cr.usgs.gov
Spread the Word
Tell your friends they can receive this free newsflash by subscribing at:
https://www.lacoast.gov/news/newsletter.htm
For More Program Information:
Subscribe to WaterMarks, the CWPPRA magazine, by contacting lacoast@nwrccom.cr.usgs.gov
To view on-line issues visit
https://www.lacoast.gov/WaterMarks
CWPPRA Managing Agencies:







Other Related Coastal Restoration Web Sites:










Unsubscribe
This newsflash has been sent to you because you are either a participant in our program or you have provided your e-mail address to us in a request to receive it. If you prefer not to receive this newsflash, you can unsubscribe by sending an email to:
ListServer@nwrccom.cr.usgs.gov.
with "unsubscribe cwppra" as the subject without the quotation marks.