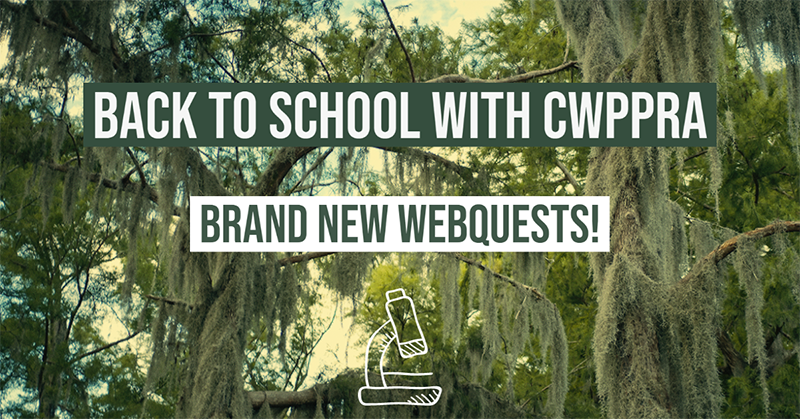 CWPPRA WebQuest: Louisiana's Wetlands


Looking for fun activities to engage students in learning about Louisiana's wetlands? We've got you covered!
Check out our new line-up of WebQuests! All CWPPRA WebQuests are NGSS-aligned and are available as interactive Google Slides or in a print-friendly format. You can find these WebQuests along with other educational worksheets and activities on the
www.LAcoast.gov
website and on our new Teachers Pay Teachers webstore
https://www.teacherspayteachers.com/Store/Cwppra
! And as always, all of CWPPRA's educational materials are available for
free
to the public.

###
See what's new on the CWPPRA Web site! Visit https://www.lacoast.gov/
Tell Us What you Think
We welcome your comments! Contact us at lacoast@nwrccom.cr.usgs.gov
Spread the Word
Tell your friends they can receive this free newsflash by subscribing at:
https://www.lacoast.gov/news/newsletter.htm
For More Program Information:
Subscribe to WaterMarks, the CWPPRA magazine, by contacting lacoast@nwrccom.cr.usgs.gov
To view on-line issues visit
https://www.lacoast.gov/WaterMarks
CWPPRA Managing Agencies:







Other Related Coastal Restoration Web Sites:










Unsubscribe
This newsflash has been sent to you because you are either a participant in our program or you have provided your e-mail address to us in a request to receive it. If you prefer not to receive this newsflash, you can unsubscribe by sending an email to:
ListServer@nwrccom.cr.usgs.gov.
with "unsubscribe cwppra" as the subject without the quotation marks.