The U.S. Geological Survey's (USGS) Wetland and Aquatic Research Center, in cooperation with Louisiana's Coastal Protection and Restoration Authority's Barrier Island Comprehensive Monitoring (BICM) Program, has published a report on mapping habitats in beach, dune, and intertidal environments along the Louisiana Gulf of Mexico shoreline. The overall objectives of the effort were to (1) map habitats for 2008 and 2015–16 for BICM coastal reaches and (2) map habitat change between these two time periods. This work builds on a previous habitat analysis conducted by the University of New Orleans, which included the development of habitat maps for 1996/1998, 2001, 2004, and 2005, along with habitat change maps. For this current effort, a new 15-class habitat scheme was developed from the original BICM scheme to further delineate various dune habitats, including meadow habitat found along the backslopes of dunes, to distinguish between marsh and mangrove, and to distinguish between beach and unvegetated barrier flat habitats. Additionally, a geographic object-based image analysis-based mapping framework was used to incorporate relative topography and address elevation uncertainty in light detection and ranging data to assist with mapping dune and intertidal habitats.
For the entire BICM region, the area experiencing a change in a land/water category (i.e., land gain or land loss) was 3.4 percent, of which, 59.2 percent was land gain and 40.8 percent was land loss. Areal coverages of meadow, mangrove, scrub/shrub, and vegetated dune increased from 2008 to 2015–16, whereas areal coverages of beach, grassland, and intertidal decreased. The decrease in intertidal, however, was largely due to differing water levels in the orthophotography between the two time periods. Regional analyses of habitat coverage and habitat change captured the dynamic nature of these systems and the effects of restoration efforts, most notably in the Late Lafourche Delta, Modern Delta, and Chandeleur Islands regions. For instance, in the Modern Delta region there was a marked increase in unvegetated flat, meadow, mangrove, scrub/shrub, beach, unvegetated dune, and vegetated dune. As a result, this region experienced the highest percent change for land/water classes (6.6 percent) with land gain accounting for much of this change (70.8 percent). In contrast, the Acadiana Bays region had the highest relative percent loss of all regions.
Data produced through this effort are available in the BICM Habitat Reporting Tool (HRT)
(https://warcapps.usgs.gov/bicm)
. The HRT allows users to visualize the BICM habitat and habitat change datasets and develop standardized reach-specific maps as Portable Document Format (PDF) files without the need of a geographic information system software package. The HRT includes a wizard that guides the user through a series of questions to develop either a single- or multi-pane web map. The resulting map includes a user-specified combination of BICM habitat maps and habitat change maps developed by the USGS.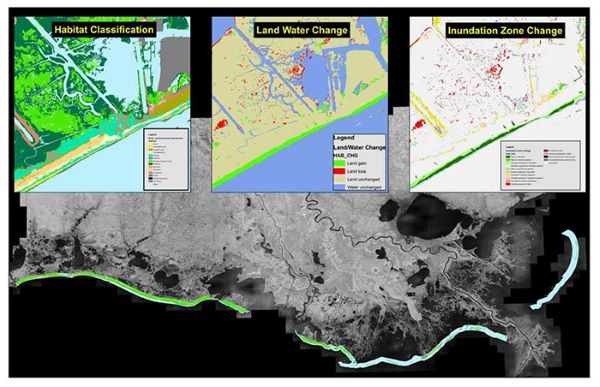 Report:
Enwright, N.M., SooHoo, W.M., Dugas, J.L., Conzelmann, C.P., Laurenzano, C., Lee, D.M., Mouton, K., and Stelly, S.J., 2020, Louisiana Barrier Island Comprehensive Monitoring Program—Mapping habitats in beach, dune, and intertidal environments along the Louisiana Gulf of Mexico shoreline, 2008 and 2015–16: U.S. Geological Survey Open-File Report 2020–1030, 57 p.,
https://doi.org/10.3133/ofr20201030
.
Data are available for each BICM region via USGS ScienceBase:
https://www.sciencebase.gov/catalog/item/5a32ebe1e4b08e6a89d886b4
For more information on the BICM Program, visit the CPRA Coastal Information BICM project webpage
(https://cims.coastal.louisiana.gov/outreach/Projects/Bicm)
or contact
Darin Lee (Darin.Lee@la.gov)
. For technical questions about the map products, contact
Nicholas Enwright (enwrightn@usgs.gov)
.